Account Alert
If you are the owner or administrator of this site, please Login now for important account information.

Not involved in the administration of this site? Please disregard this message.Please Click here to dismiss this alert.
FREESERVERS IS A UNITED ONLINE COMPANY
Copyright © 2016 United Online Web Services, Inc. All rights reserved.

SiteRing by Bravenet.com

Welcome to
wireless WEB FORUM
This is an experimental portal which through time, we hope, will grow to become a central access point for all aspects of broadcast and internet radio. We intend to showcase some of the best and worst of broadcast radio. This is not so much our site as your site. Like a boat at sea we'll just steer it in an orderly direction.

Talking of boats at sea we will showcase some of the most interesting experiences in offshore radio. Much like the internet, offshore radio didn't fall nicely into the jurisdictional control of state governments but became a reflection of various 'pirate' personalities both at the microphone and in the boardroom of different stations; again like the internet off-shore radio was not necessarily controlled by any publishing identity, as a result it shrugged off the strait-jacket of commercial control and produced some of the best, and worst, broadcast radio of the last millenium.

Whilst not exclusively so; offshore radio was pre-dominantly a European experience. Arguably it challenged the old-world European concept that radio should be a state controlled product and looked gazingly to America's more commercial radio scene. With the major US markets containing the greatest proliferation of radio stations on planet earth, America is without doubt the powerhouse of commercial broadcast radio. So we'll not shy away from talking US call-signs.

Of course with the growing internet many broadcast stations are re-purposing their output onto the world wide web. Nowadays whether you are in Leyland, Lancashire, Brisbane Queensland or Staten Island you can listen to just about any damn station on planet earth. We'll show you how … what's more we'll make it as simple as a click of the mouse. Who knows we'll maybe show you how to 'broadcast' your own station on the net … we'll certainly discuss the various competing formats which are vying for market dominance.

As for television, we'll certainly not exclude that from our agenda. We'll tell you how you can watch TV on your computer and what's worth watching (as soon as we find out what's out there and what's worth a glance).

Yep it's a tall order … so if you want to give a hand … that's cool too. In the meantime just watch this space, tune in and turn on, or click that mouse.
offshore RADIO
Introduction
By way of a brief explanation Offshore Radio is generally taken to be Radio broadcast from ships on the high seas rather than the broader definition of international radio. That's not to dismiss the fact that offshore radio has also been broadcast from 'maritime structures' such as the abandoned wartime forts which were scattered around London's Thames estuary.

The story of offshore radio is very much an international one, whilst much of the focus of offshore radio centers on nations bordering the North Sea the individuals involved hailed from all corners of the earth.

Logistically the notion of broadcasting radio from the ocean is the most ridiculous of concepts; it's far easier to broadcast from dry land. Broadcasting from sea was pursued to circumvent political and jurisdictional control evident on terra firma. It comes as no surprise therefore that the motives driving the disparate broadcasters were often an uneasy mix of political, philosophical and commercial agendas.

Sound broadcasting developed somewhat differently on each side of the Atlantic Ocean. Whilst the original emphasis on both sides was to use radio as a tool to sell the wireless apparatus; once a sufficient body of people had access to listening equipment, the European governments tended to perceive radio as a national resource, whereas in the United States commercial interests drove the broadcasting agenda.

There came to be a turning point in Europe. In less than half a decade between the late 1950's and the early 1960's people in Europe witnessed a cultural revolution. Suddenly everyone had money in their pockets, the austerity of the post-war era was over and optimism was everywhere.

By the early 60's optimism was everywhere that was except on the European broadcasting corporations. With the BBC, the British Broadcasting Corporation, perhaps the most prominent and influential European broadcaster, fashioning itself as the bastion of 'conservative upper middle class values' the very idea of pandering to the recently affluent youth culture at best only warranted lip service.

As history will tell it was the offshore stations who responded and tapped into this youth culture.
internet RADIO
Introduction
Internet Radio or to be precise 'media-streaming' or 'webcasting' is a child of the 1990's. Its genesis can be said to be dated from the rise of the commercial Internet in 1993/4.

In 1995 Real Networks (previously known as Progressive Networks) released its Real Audio technology. As Real Audio's application player was distributed free-of-charge its use spread wide and fast. With a large base of 'listeners' Real Audio's profit was derived from the sales and/or leasing of the Real Audio recording technology to established broadcasters. The initial success of Real Audio was in part due to its availability to operate on either Windows or Macintosh systems. This marketing strategy was subsequently been adopted by other computer software distributors (e.g. Adobe's Acrobat Reader).

More recently, broadly in parallel to the release of Internet Explorer 5 for Windows 98, Windows Media Player has entered the market. Like Real Audio (or Real Media as it is now becoming known) the Windows Media Player is free-of-charge to listeners. An added advantage of Windows Media Player is its ability to work in conjunction with a Radio Bar (a computer screen toolbar) on Internet Explorer 5 (also shipped free-of-charge).

Windows Media Player introduced the Active Streaming Format which serves to synchronize video, audio and multi-media streams into a consolidated media experience. Microsoft are pushing ASF as the universal format for delivering webcasts. However as this is written Real Audio is still the dominant streaming technology used for broadcasting and receiving Internet Radio.
So how do you go about listening to Internet Radio ?

Well if you are viewing this screen using Internet Explorer 5 you can seek a station via your Radio Toolbar. But that will only let you access stations broadcasting in ASF (the Windows Media format).
You can select from one of the Internet Radio Listing catalogues, screen left, but then you need to either know the station you wish to receive or rely on the listing host to advise you of a particular station's content matter.
Optionally you can click on the one of wireless WEB FORUM 's recommended Radio Station streams by clicking on the banner at the top of this page. [end of plug]
terrestrial RADIO
Introduction
Terrestrial Radio … well that catchall certainly covers all bases. In a purist sense we intend it to mean land-based radio as distinct from radio broadcast from the high seas … Offshore Radio. As we also have a dedicated section on Internet Radio it leaves the balance.

However in keeping with our broad philosophy that wireless WEB FORUM is intended to broaden access to and understanding of radio, as we all know it; we'll start our initial focus on the more 'exotic' forms of sound radio broadcasting. Both the good and the bad categories!

We are already showcasing links to some fringe (read pirate) stations as well as to international (read traditional short wave) broadcasters. These two categories of broadcasters (as well as niche internet & offshore radio stations) are the bedrock of the more exotic types of radio.

Now if you want to pay phone bills and ISP connection charges to listen to your local station on your $2,000 PC rather than doing the same free of connection charges on your $50 radio-set … that's fine with us. It's probably a value-added experience.

But after you've done that we'd like you to think globally and temporally. Why not check out a station on the other side of the globe or some archive from the sixties?
internet TELEVISION
Introduction
Internet Television. By Internet Television we mean video streaming.

The problem that Internet Television faces is one of bandwidth. An audio track occupies far less bandwidth than a video signal. That is to say; for your computer to display a television picture it has to receive information, a data stream if you will, at a far greater rate than required for listening to Internet Radio.

Presently the limiting factor on domestic receipt of video streams is the capacity of your modem, cable or ADSL connection. Receipt of a reasonable quality video stream is probably limited to a two-by-inch-and-a-half sized screen. This will improve. The other major difference driving the availability of Internet TV versus that of Internet Radio is a commercial one. Most people reading this around the globe will have heard of "Friends" the hit US Situation comedy but with a few notable and rare exceptions the biggest names in New York or LA Radio will be unknown in Perth Australia, Manchester England or Cape Town, South Africa.

Television product is an internationally traded commodity whereas radio has traditionally been local. For LA station KIIS FM to broadcast on the net can only boost their traditional local income base. But for Granada TV, CBS, Carleton or the ABC, to make their product freely available on the World Wide Web would be to undermine their ability to sell their programmes internationally.

There is an exception that springs to mind: that of Television News. You can't sell old news … you can't even give it away. News is very much more of the moment. So newscasts from CNN, ITN & the BBC are available to be freely viewed. Also available are video streams from NASA. These of course are subject to availability … Houston has to have a bird in the sky at the time you tune in. But when you get to look down on the earth as it spins below your vantagepoint … wow!

There is of course a lot more than Spacecraft and Newscasts. As they say just watch this space.

The Toad Speaketh ...
Brought to you by Cane Toad beer
The Caroline Roadshows, (North)
1972, Holland, The radio ship Mi amigo is preparing to sail into international waters and recommence broadcasting. 1972.Liverpool, Ronnie Dee is preparing a roadshow, With the help of Don Allen Ronnie secures the right to call the roadshow Caroline. Rhonan O Rahilly gives full support to the venture. A makeshift rig is assembled and the Caroline roadshow organises its first gigs, Coinciding with the start of the Mi Amigos first transmissions from the coast of Holland, The roadshow is given an on air mention and the turnout to the Mountford hall gig is massive, Helping out DJ wise on those early day shows is John Shannon, (John Jackson Hunter) and Eric who left the show in 1974 to spend more time on his own pirate station (Radio Jackie north). Also giving some assistance to the show was Carl England who was most impressed by Ronnie Dee's dedication and great ability to create something useful out of a heap of discarded junk. IE, Today a worn out leaking washing machine, Transformed tomorrow in to a 24hr alarm clock with built in teasmaid and three-legged trouser press, The early show was a fairly simple rig using a homemade amplifier, (Ex electric shaver) and Tea -chest speaker cabinets,
Rapid Expansion
This early show was soon dismantled as response to the roadshow was so great, that it soon became obvious expansion would be the only way to cope with demand, Work started on building bigger and better shows, Ronnie again demonstrated his expertise at construction, however funds were very limited, a powerful amplifier belonging to a local band saw the show through a few highly successful gigs, But as the band themselves were on the up, borrowing became very inconvenient, Carl fortunately had just completed a good year with a small business and decided to put up a limited amount of cash to provide a deposit for a 200w PA system, Having also purchased two 100w slave amps, speakers, mixer and decks, This now gave The Caroline Roadshows two good outfits to cover the increasing demand for Caroline live in pubs and night clubs. It should be remembered at this point that Radio Caroline north was still fresh in the minds of the north of England people and still badly missed by most. Carl's small amount of cash was very quickly repaid to him, Proving conclusively that not only was Ronnie Dee a dedicated genius but also a reliable, honest and real nice guy, Ronnie and Carl became good friends rather than just business associates, and still are. The Roadshows soon became a full time job, maintaining equipment to ensure total reliability, expanding and improving the Ship shape appearance of the rig, One of the main features of the show, from the front on stage the rigs were both built to look like the bow of the Mi Amigo with a tall mast, all fully illuminated. DJ's performed fast swinging radio shows in front of the audience using the original Caroline jingles mixed in with the Pams 60s jingles, Sounding just like Caroline north. Following the resignation of Eric (who was an excellent DJ) the Caroline Roadshow secured the services of John Dwyer. John proved himself to be just the right person, and working mostly with Carl England drew regular audiences to some of the most successful shows, Full houses guaranteed with people knowing and expecting a great evening in store, Both roadshows enjoyed tremendous success through 1973/74 and 1975; it was however the events of 1975 which took until 1976 to materialise properly, that did the show most harm.
A Knock full of Boats.
The Mi Amigo, following the introduction of the Dutch Marine broadcasting offences bill. Sailed back to the English coast, Anchoring in the Knock Deep, Up until this time the Caroline Roadshow had been operating legally. As the British government considered Caroline to be a Dutch pirate However now the ship is just out side British waters, under the British M,O,A, It is illegal to advertise or promote an Offshore radio station, Or to advertise on an offshore station. The Caroline Roadshow was doing both; Tony Allen every evening gave mention to the show and its DJs. A British home office spy ship anchored close to the Mi Amigo, Photographing, recording broadcasts and tracking the movement of tenders and supply ships visiting the Mi Amigo, A number of DJs including Andy Archer, Johnie Jason and engineer Peter Chicago along with a tender skipper were prosecuted and fined at Southend as a result of the Spy ship.
The Home offices Secret Ball,
The services of the Spy ship played a part in the raid on the Caroline Roadshow. On the evening of January 14th 1975, (The 14th is a favourite day for Home office activity) The Caroline Roadshow was appearing at one of it regular gigs, A favourite for almost two years The Fleece Hotel, St Helens, Nr. Liverpool, as usual was packed with around 600people aged between 16 and 35 years, A very busy gig for the DJs and probably carefully chosen by the Home office in an attempt not to be noticed. Ronnie Dee opened the show at 8.30 handing over to Carl England about 9.15 , All seemed quite normal until John Shannon preparing for His spot at 10.20, Looked out of the corridor window on His way to the toilet and spotted a row of yellow vans, on further investigation John discovered more vans on the other side of the building, On the car park vehicles belonging to Ronnie, Carl and John (Two lettered vans and a car displaying stickers) were being photographed John ran back to the stage to inform Ronnie, Carl and Colin the roadie, all who seemed quite unconcerned, John then keen to take over the mic made an announcement which flew over the heads of the audience, but certainly let the home office boys know there presence was not appreciated, moments later all of the vans and cars involved drove off. At no time during the raid were any of the Roadshow staff approached by the officials who must have paid on the door to enter (Breaking the law by funding an illegal operation). It transpired later that that the Spy ship at the time of the raid was making a recording of the broadcast from the Mi Amigo later to be transcripted and used as evidence. At the same time one of the home office vans outside the Fleece hotel also had been recording the Mi Amigo whilst another van using a radio mic carried by one of the Bods in the hotel had been recording the Roadshow. On route to the Fleece hotel the Home office boys had visited the Roadshow office in Liverpool. Number 4a Prescott St (Now demolished) consisted of a small lock up shop with living accommodation above, the shop window contained a display of offshore memorabilia, car stickers posters badges and three model ships, The King David, The Mebo 11 and the Mi Amigo. Photographs were taken as evidence to be used in court at a later date. It is interesting to note that the home office bods visited for their photo session knowing the shop would be empty. Nothing seemed to happen after the raid. The show carried on as normal. The whole incident was almost forgotten about until October when a Police Chief paid the Roadshow office an unofficial visit informing Ronnie that the Home office had decided to prosecute under the terms of the MOA. He was keen to tell Ronnie that He did not agree with the Home office and had lodged a complaint in support of the Roadshow and was refusing to deliver the summonses. According to the Police Chief "When the Roadshow is working the Police can relax, There is never any trouble and crime figures relating to nuisance vandalism and petty crime are down, Everybody is having a good time, letting off steam and going home happy. People don't think of doing wrong when they are having a good time, they go home content. I am not happy at all with the action to be taken over something doing more good than harm". Near the end of November 1975, The summonses arrived by Post, Ronnie Dee, John and James Monk manager of the Fleece hotel, all charged with promoting an Offshore radio station.
In The Courtroom.
On the first morning of the court appearance, Stipendary magistrate Leslie Pugh , (a very well respected magistrate) turned up some 40 minutes late, Storming in bearing the most foul mood and without opening the case in the proper statutory manner, Mr Pugh immediately attacked Ronnie and John with the question, "Is that Your usual attire? How dare You appear in court dressed in that manner ?". Ronnie and John were both wearing Radio Caroline "T-shirts, "You will remove those garments wash them and hand them in for confiscation", Ordered Mr Pugh, Immediately Mr Ian Trigger lawyer defending James Monk, asked Mr Pugh if He had already decided the defendants were guilty before being tried? Mr Pugh backed off, replying "No certainly not" (As the law stood at the time, an opportunity could have been taken for Ronnie and John to refuse to recognise the court and elect for trial by jury, claiming a bias magistrate, This opportunity was not taken) During the week long case 26 witnesses for the Home office were called on demand of John who interviewed and questioned individually each witness, This action did no more than cost the Home office a great deal of cash as most of the witnesses travelled from London, However John did ask some very interesting questions of which the witnesses were obliged to answer, Including the cost to taxpayers of the Spy vessel anchored close to the Mi Amigo. At the end of the week long case all defendants were found guilty of promoting or advertising an offshore radio station, Sentencing was deferred for one week, One the 4/5/1976, Ronnie Dee and John were fined £600 each, Hotel manager James Monks fine of £25.00 may seem small in comparison, however simply being found guilty gave Him a criminal record costing Him His ability to hold a licence to sell alcohol and therefor costing Him His job as hotel manager, Sadly Mr Monk had only recently taken over as manager shortly before the raid, The Roadshow had already been running in the hotel for well over a year. Mr Monk had merely seen the night as a good profitable effort and had no knowledge of the radio station over 250 miles away or the MOA. The week between being found guilty and sentencing proved itself to be a very active time with the Home office boys swarming over just about everything in sight Ronnie's Shop at 4a Prescott St, the first target. Confiscation of anything relating to Radio Caroline, In the window a model of the Mi Amigo and a number of stickers were removed. Other models of ships could not be removed either because they were not broadcasting at the time or were anchored of another shore. On the morning of Tuesday 1/5/1976, a small flat rented by Carl was raided and searched, This was an opportunity for Carl to ask why He had not received a summons along with Ronnie and John? The reason given was because He was considered to be one of the main "Ring leaders" and would now be "Done for something bigger"; The search of the property revealed nothing at all relating to Caroline, the Roadshow or offshore radio. (The reason being the flat was temporary residence during a marital dispute. Everything relevant was still in Carl's house two miles away). On finding nothing the Home office boys held a meeting in the street outside, The conversation was listened to by a business friend of Carl's who was sat in a car waiting. The Home office men decided Carl had been scared off by the outcome of the court case, given up, got rid of everything and would give no more trouble!
The show must go on.
Roadshow gigs were drastically hit by the outcome of the case. Most of the shows were in clubs and music lounges belonging to Greenhall Whitley breweries who owned the Fleece Hotel, this work instantly disappeared, other venue managers were reluctant to employ the show. For a short while the roadshows went separate ways, Carl changed the name of one show for a very short while in order to keep an income flowing in and not let the show die, during this cooling off period, Ronnie Dee decided to take a break but not for long, After a few months Ronnie visited Carl on a show back under the Caroline name, There is an old saying "You can-not keep a good man down" Ronnie was not going to be down any longer, Back up on stage on showing the world how the job should be done ,and none of the old humour had been eroded, Caroline Roadshow was back in full swing. Other DJs working on the show at this time were Mark Dean and later Tony Abbott.
To the gallows pole.
All credit must be given to John Jackson Hunter, who stood strongly by His principals and refused to pay His fine. And quite rightly He had done nothing wrong, after all it is only greed on behalf of governments who introduce laws of this nature as Eurosiege 85 proved. In a court appearance for non payment of the fine, John agreed to pay One pound per week, but really had no intention of paying any, this was just a delay tactic and eventually John was arrested and taken to Copy Lane police station. On the26/11/1977, John was transferred to Walton prison were He was kept in a reception cell until His release in January 78.
Raving it up.
Having spent His birthday in a cell, John also enjoyed Christmas dinner in the company of Her Majesty's servants, Nine miles north in Southport, The local constabulary were living Christmas up with a fancy dress party, and a great New Years eve bash shared with the Fire brigade, Entertainment on both occasions provided by The Caroline Roadshow. The Roadshow was a great favourite with the police performing a good few gigs over a four-year period. In 1979, a police conference took place in the Southport police club, This was shortly before a gig and posters advertising the Roadshow were on display, The visiting Police officials asked the Southport officers not to display the posters in a place were they may be viewed by the public.
What more stickers ?
Shortly after Johns spell in the nick, A young keen bobby on the beat from Copy Lane station, spotted Carl's car parked outside Carl's parent's house just a couple of mile from the station. The Bobby seemed to be taking a great interest in the old car (a fine example of an old Cresta) Carl approached the officer and asked "Do like it" pointing at the car, "The cars fine, looks like its kept in tip top condition, But what about these car stickers, Are they not illegal? "Very illegal but they're staying there"said Carl. You know they are illegal but you still display them? I think I am going to have to arrest you, replied the officer, Carl's father Fred came out to see what was going on and was told, "I am being arrested for the stickers on the car dad, a moment I have been waiting for! The officer looked quite puzzled, even more so when quoted the section of the MOA relating to the offence, and the offer of a lift to the police station in the offending car, He was told He would need the car as evidence. The highlight of the day was Fred who quickly covered His car with Radio Caroline stickers and demanded being arrested with His son. Both were released with an apology from the station. "We can see that You are Both decent people who have strong principles, Just recently We had a lad in here that We were ordered to pick up for non payment of a fine relating to the same stickers, He seemed like a decent person also, He was kept here for a while before being transferred to Walton. We are very sorry and have to admit we do not really understand the offence, but as Police officers it is our job to uphold the law. At no time were the Police meant to look foolish as a good relationship had always been maintained, but any opportunity to publicise the pettiness of the government and it attitude towards radio is not to be missed.
The latter days.
September 1980, Ronnie married Christine and moved to Chester. Best man was Carl; it was probably the only time in years that both Ronnie and Carl looked smart and tidy, "wearing suits". Ronnie was quick to remark how they both resembled" Home office bods", The move to Chester made it difficult for Ronnie to attend every show, but fortunately Ronnie did work on all of the main programmes, During the fitting out of the Ross Revenge. Robin Ross had been baby sitting the ship in Spain, On a six week visit home to the north west UK, Robin who had previously been working with Carl on a couple of major pirate stations joined the show and organised a series of gigs featuring "local" bands. Another welcome DJ to make an appearance was Peter Maddison , Peter in the sixties worked on the fort based stations as Mac Peters, At Communicate 88, the radio convention in Blackpool, Peter performed a fine job of entertaining the 2000 strong audience on the Caroline Roadshow.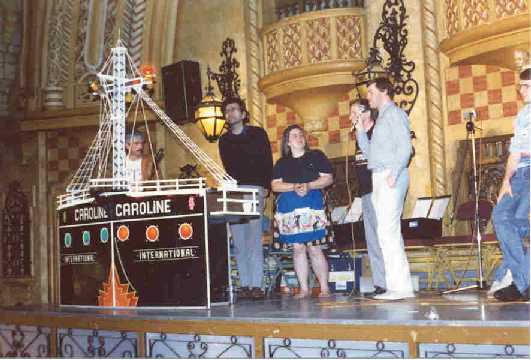 And finally;
Thanks to the imagination of Ronnie, the hard work and expertise of all concerned working on the show, Radio Caroline could not have had a better representative to promote awareness of the continuing station broadcasts.

The DJs. Ronnie Dee, Eric Day, John Shannon, Carl England, John Dwyer, Tony Abbott, Mark Dean, Guest DJs, Don Allen, Bill Chrisp, Robin Ross, Peter Maddison, Henry Henderson, Roadies, John Norton, Colin, Paul

Text. story written and produced by The Toad.



GRAND
RADIO CAROLINE
NITE OUT DANCE


The Official LIVE Caroline show will

hold an opening nite dance to announce

the return of

RADIO CAROLINE

The show will be live and the press will be

in attendance, So be in time for the opening

Caroline theme at 7.30pm prompt

A dial a disc will be set up in the hall

7.30pm Sat Jan 20th 1973 MOUNTFORD HALL
BEDFORD ST


(off brownlow hill)

LIVERPOOL
TICKETS

Radio Caroline (Roadshow division) Liverpool.
4a Prescot Street, Liverpool, L 7.



wireless WEB FORUM feature
"the Barrie"
We would like to introduce you to "the Barrie".

"So what's the Barrie ?" one might ask. It's a medium wave loop antennae capable of tuning AM (amplitude modulation) signals in the approximate frequency range 531kHz to 1620kHz.
Firstly a word on antennas

A typical domestic radio unit may have a visible telescopic antennae this will invariably be for reception of FM (frequency modulation) signals on the VHF (very high frequency) waveband. The AM or MW (medium wave) signals are generally received on a ferrite rod antennae built in to the radio set. So rotating the set is usually the first step to improve reception. Some 'flash' HI-FI (high fidelity) units may have a coil antennae tucked around the back of the cabinet. Typically these are about 180 x 100mm in size. Whatever the existing antenna the Barrie will work nicely along side it.
What you will need
A six foot (1800mm long) timber batten
Four (4) rubber door stops
Some single strand cable (about 30 metres should suffice)

A few screws, tacks, cable stays
A 500 pico-farad tuning capacitor (the type they used to build into transistor radio sets will suffice)
and a knob (to rotate the tuner).
Some woodworking adhesive
The use of a saw, screwdriver, hammer, soldering iron etc.
A word of caution
Obtain the 500pf tuning capacitor first as this may prove to be the most awkward to source. If you can't purchase one locally then Radio Spares in the UK may be your best bet.
Here goes with the construction
The timber batten frame serves only to suspend the wires so the best I can suggest is that you take the batten retain four (4) lengths of 100mm long feet to be notched onto the two legs. The two legs can be morticed together. The important thing is the 'square' formed by the frame must equate to a dimension of 430 mm.
For the above dimension of frame 16 full turns of wire are to mounted on the frame. To steady the wire on each foot saw sixteen (16) grooves in three of the four feet and seventeen (17) grooves in the fourth foot. It is important that the cable begins and ends its journey on the same foot of the frame. (The one with 17 grooves.) Wind the frame with cable and take each end of the cable along the leg toward the tuning capacitor mounted somewhere in the centre of the frame.
Once you have constructed and bound the frame with cables experiment to see which of the two feet gives the most stable standing position. Having selected the 'best' feet screw a rubber door stopper to each end of the two chosen feet. Position the rubber stoppers so as to lift the lower cables off the ground. The antenna should stand even better now.
Now to test your creation

Go grab yourself a portable radio. Tune the set into a signal which is usually received rather weak. Grab the Barrie, lean one of the rubber feet on top of the set, and tune him in too. If the Barrie is working you'll know about it as you tune close the radio set will appear to lose the signal as you get closer still and tune in the improvement in signal will blow your socks off !!
Problem solving

If the Barrie doesn't affect the signal reception of a weak station then the most likely problem is in connecting the loop to the 500pf tuning capacitor. Some of those things have more tails than a heard of horses; choosing the right two can be a matter of trial and error. The only other thing which you can do wrong is fail to commence and terminate the wiring of the Barrie off the same foot of the frame. I suppose there could be a break in the circuit by a loose or dry connection or a snap in the cable.
Things to know

The Barrie has a reception pattern like a figure '8' on plan (looking down) it follows that with the Barrie positioned to maximise signal reception turning the Barrie about 90 degrees will minimise signal reception. You can use this directional property in two ways:-
Where two signals are received on the same frequency you can separate the wanted signal by 'nulling out' the unwanted interfering station.
Where the desired station is found nestled close to a big powerful neighbour 'nulling out' the adjacent channel power station can reveal its distant weaker neighbour.
Another thing to know

Medium waves bounce off the ionosphere at night so whilst there is an increased chance of interference to local stations. If you are chasing the dX (distant unknown) this is the time to cruise the bands. Hawaii's not too far away. Good dxing !
And Finally

The name Barrie afforded to this antenna is a tribute to a Mr. Barrie Johnston of Blackpool, Lancashire in England who whilst perhaps not the inventor of the medium wave loop antenna was a major proponent of its use across North West England in those heady radio days of the mid-late 80's. Back then the most interesting radio had to be pulled in from Irish Free Radio Stations like Nova or Sunshine or Pirates Ships like Caroline and Laser 558 both anchored 500km distant across the other side of the country. Our best wishes go out to Barrie.

73s, Improved Listening & Good dXing
wireless WEB FORUM feature
Sound Files & Media Streaming
So what is 'streaming' one might well ask? Well first up we aren't real experts but we're happy to tell you what we know. We must add as a caveat that we are writing this pitched at the semi-novice and if we bore you seasoned Internet surfers then please accept our apologise. First off we'll tell you about sound files.
WAV Sound Files
There are a bunch of different file types which produce sound, if you are on a machine running Windows 95/98 you will have noticed that you have a "# Start" icon (usually bottom left of you screen) there may also be a start key on your keyboard. Click on that and you'll see a "Find" icon. If you select it and choose "Files or folders" and type in the named box *.wav then click on the "Find now" button, sure as eggs break you computer will list you a whole bunch of files ending in with the .wav extension. My computer represents them with small yellow speakers.

Yeah maybe but perhaps you don't get to see the .wav file extension? Perhaps you computer is set to hide these TLA file extensions. (In case you are wondering what TLA is … that's easy … it means Three-Letter-Acronym, they are all over the place in computer speak let alone acronyms like BBC, CNN, ITV, IBM…) Word documents have a .doc extension, Excel usually has a .xls extension, and some sound files have a .wav extension. (Incidentally programs or executable programs to be precise have a .exe extension.)

But that's all very well if you can't see what extension is on a file! Here's how you toggle the extensions on or off.

"# Start" choose "Settings" then "Folder Options" then "View" and uncheck the box described "Hide file extensions for known file types" now you can repeat the first exercise.

"# Start" "Find" "Files of folders" and enter *.wav in the named box and hey presto you see all the *.wav files listed. Try highlighting and clicking one and it may very well play for you. (You will of course need a sound card and speakers with the volume turned up to hear sound, more than that you'll need an application that plays sound.) If you've got this far well done.
MP3
You may well have heard of MP3 files as well. MP3 has made headline news with debates and courtroom battles with Napster over copyright and royalties.

Go see if you have any MP3 files?

"# Start" "Find" "Files of folders" and enter *.mp3 in the named box. You may or may not turn any up. Don't worry if you see none.

MP3's are compressed music file. With the appropriate software a .wav file ca be compressed to a MP3 file and become a fraction of the file size of its parent.
MIDI
Now to get list of MIDI files you search for MID

"# Start" "Find" "Files of folders" and enter *.mid in the named box. You should turn some up.

Play one: click or double click on one

One characteristic of MIDI files is that they are instrumentals. The reproduced quality is often very good but the compression algorithm (format) can't handle the frequencies of the human voice.
Helper Applications
You probably noticed that when you clicked on one of those sound files to play it a window popped up with a helper application. In my case the helper application was Windows Media Player. That's the default player for these types of files. You may have, intentionally or unintentionally, changed the default player by installing other software.
Streaming.
The above-mentioned sound files are discrete files, the longer and more complex the track the larger the file size. This is because the sound file contains all the track information. Streaming is the name given to a constant flow of information as distinct from a discrete file of information. Strictly speaking there are occasional pauses in streaming much like a didgeridoo player pauses to take in breath the streaming clients pause to take in the information output. Much like a bagpipe player has a bag of stored air which is slowly released the streaming client has a buffer which it replenishes from time to time.

Streaming is not necessarily limited to radio. Vision can be streamed as can text; or those sometimes annoying banner ads can be streamed. (Although the writer has it on the best authority that the 'banner ads' circling on this site aren't yet streamed, although the ones on the tailored Google search engine and Coolboard notice board probably are.) But let's get back to Radio/Vision
Windows Media Player
If you are reading this page with Microsoft's Internet Explorer 5 installed you may or may not realise you have a Radio Tool Bar. To turn it on go to the topmost toolbar, select "View" then select "Toolbars" then check the "Radio" option. Hey presto. Provided yoyu are on line this Radio bar will take you to Microsoft's Radio station Guide and from there you can probably find your way to KMJX Mix 105 in Little Rock, Arkansas, USA. If you catch Tom Wood's programme tell him we sent you his way. (There's a whole bunch of other stations aswell as KMJX.)

This Radio toolbar works in conjunction with Windows Media Player, probably the same application that played your sound files.

If you haven't got Internet Explorer 5 it's worth considering a free upgrade. Also it's worth getting an updated copy of Windows Media Player. Both applications are free often obtainable with computer magazines (you buy the mags) or alternatively can be freely downloaded from the Microsoft site.
Real Audio
At one point in time Netscape was the dominant web browser taking as much as 75% of the market share a few years ago. With Internet Explorer bundled into Windows 98 the situation changed. Now the most frequently used browser is Microsoft's Internet Explorer. Last we heard Internet Explorer was at 75% of market share.

With Internet Explorer 5, Windows Media Player is the new kid on the block in its role as a media-streaming client. Pre-dominant in this field today is Real Audio which we must now learn to call Real Media. It seems that the majority of stations re-purpose their broadcasts using Real Media as distinct form Windows Media. But in this dynamic Internet environment that status quo can rapidly change. If you don't believe us just ask Netscape.

What you need to know as an Internet Radio listener is that both Real Media and Windows Media Player are free of charge. So you would be advised to have both applications available on you system. That way, wityh them, you would be geared up to listen to the vast majority of stations on planet earth.
QuickTime
Both Windows Media Player and Real Media have carved up the radio streaming market. When it comes to vision there is another application which is holding its own. Some broadcasters favour Apple's QuickTime. This too is free, and runs on Microsoft Windows although it has a definite AppleMac look to it. You may as well go get that application onto your system as well.
Others
There may be other applications in use or planned for the future. If anyone feels they warrant a mention on this page, please let us know
Webcasting

As we explained above webcasting is not restricted to re-purposed radio. Webcasting technology is used to stream text such as news streams or share and stock prices, for streaming banner ads and for video streaming vision; either full live video news-feeds, programme previews, archived material or time lapse feeds from webcams. Sports casting will also be one to watch; so if you run a five-a-side tournament once a week why not think about webcasting it? However for now we'll focus on radio.

From all accounts webcasting is not an expensive proposition providing of course you have the production side in place. A typical radio station can re-purpose it's output for little more than the cost of a top-end domestic computer system. Sure the computer deployed as the server requires to be constantly on-line which suggests a degree of reliability above and beyond what one might tolerate on a cheaper domestic PC [read or Macintosh].
Big & Small

To the big players [the established stations] the cost of adding an internet radio channel is a relatively inexpensive but brings with it all the benefits of cross-over media with the world wide web and the internet. Now those stations may even be pushing out visual output to compliment or expand their audible identity. The Internet technology encourages the merger of sound casting with web images and hypertext links to email chat-rooms, bulletin boards and online eCommerce opportunities.

For 'niche' radio operators an opportunity presents itself to 'narrowcast' but gather sufficient listeners globally to establish a break-even situation never before possible. New entrants to Internet radio should keep this in mind. By introducing mainstream output they compete with the corporate muscle of the big players; by being niche player a unique but sizeable market can be found with sufficient promotion. With the web promotion can be virtually free.

The fact that the Internet gives both the big players and the small guy a fair go has led to its tremendous growth in recent years. Witness the number of stations broadcasting on the Internet. So successful has Internet radio become that licensing, rights and royalty collecting bodies are understood to be rubbing their hands and counting a windfall of extra dollars!
No Limits

Well in fact there are limits. Certainly the best you can do with vision these days is to receive a jerky rendition of a two-inch square picture. We're talking BBC & CNN here not the backstreet boys. Sound casting radio fares much better. It's all a matter of bandwidth.

Unlike broadcasting with an antenna which gives a fixed output irrespective of the number of listeners, webcasting has to provide bandwidth in proportion to it's maximum expected number of listeners.
Providers

Just as the majority of persons reading this text have done so via the services of an Internet Services Provider; so too Internet radio stations can sign up with an specialist Services Provider who can multicast their streamed output.

In fact there are Services Providers who right now will permit and encourage you to put out your own radio station. One such website visited by the author had 1800 broadcasters and 250 listeners.

Free radio has arrived!
& Finally

Have you ever found yourself typing away in response to an Email only to find your ISP cuts out on you? Well it could be that you haven't turned off your call waiting, then again it might be that your computer's ISP connection is set to turn off by default after a certain time of no activity. This caters for the situation where you unintentially walk away and leave your computer on-line. In the former situation it can be annoying when you are drafting a longish letter / Email to lose your connection. If you have a radio station streaming in the background it keeps the line busy and entertains you while you surf. Your ISP connection is less likely to drop out.

This practice is a double-edged sword; if you walk away from your computer it happily plays streamed media running up your ISP bill and maybe even your phone bill. Additionally it racks up your download quota. Know it and take advantage of the pluses (but watch the minuses).

Any comments just send an

Email